About us
Specialized acoustic guitar shop with own workshop since 1978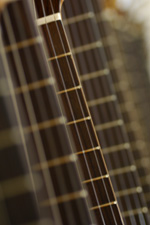 Business Philosophy
We are a sustainability oriented company aiming to find guitars which are crafted according to high technical and tonal quality standards. This is based on more than 40 years of experience and open and above-board communication with our customers and business-partners. Our team with its special knowledge will be happy to give you individual advice to help you find the right instrument.
Product Range and Service
Acoustic Guitars - Classical Guitars and Steel-string Guitars, Luthier Guitars, sheet music and accessories. For decades "Die Zupfgeige" has been a name for quality and a sustainable range of classical and acoustic guitars. We stock a wide choice of classical and acoustic guitars, from instruments for the beginner up to fine handmade luthier-guitars for professionals. Our classical guitars are made by small Spanish factories using traditional craftmanship. The single handcrafted fine classical guitars are made by famous but also by talented young guitar-makers. We try to find steel-string guitars outside the mainstream. In our own guitar-workshop all kinds of repair-services are performed. All our instruments are checked and adjusted prior to sale and we try to realize special customer preferences.
History
The guitar-maker Rolf Eichinger founded "Die Zupfgeige" in Karlsruhe at the end of the Seventies. Rolf Eichinger was tought guitar-making in Spain by Antonio Marin Montero and Manuel Lopez Bellido and showed Matthias Adler how to make guitars. Since 1991 Matthias Adler has been the owner of the company.
Die Zupfgeige
Specialists for classical and acoustic guitars
Adlerstr. 39, 76133 Karlsruhe, GERMANY Tel. (national): 0721/ 30 30 3, Fax: 0721/ 37 75 69 Tel. (international): 0049/ 721/ 30 30 3, Fax: 0049/ 721/ 37 75 69
Opening Hours: Mon, Tue, Thu, Fri: 10.00 - 12.30 / 14.30 - 18.30 Sat 10.00 - 14.00, Closed Wednesday
e-mail: info@zupfgeige.com If you prefer the telephone, simply mail us your number and we call you.